If you're looking for a new water heater or just need to repair your existing one, you've definitely come to the right place. We are your neighborhood water heater specialists.
New Water Heater Installation Services
When you schedule an appointment with Best Choice Water Heaters, a highly trained water heater technician will answer any questions and address all concerns before performing any work. They will have your water heater type on their truck and because we purchase all water heaters in large quantities directly from the manufacturer, you truly are saving time and a lot of money! Below is a brief list of the most common size water heaters and manufacturers, but please note we have any type of water heater you could imagine:

Residential Water Heaters

30, 40, 50, 60, 75, 100 gallon gas and propane.
10, 20, 30, 40, 50, 65, 80, 120 gallon electric in upright and low boy sizes.
We also install all direct vent and power vent models. And many other specialty sizes in between.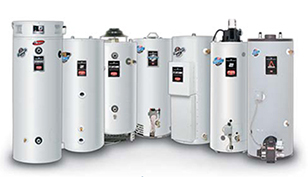 Commercial Water Heaters

50, 65, 75, 100 gallon gas and propane light duty commercial.
38, 65,75, 80, 98, 100 gallon gas and propane commercial.
100 gallon 199k, 250k and 270k BTU gas and propane commercial.